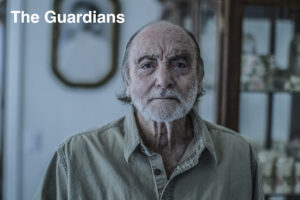 THE GUARDIANS is an investigative documentary that examines the complicated history of court-appointed Guardians in Nevada.

See our other Grantees.
Billie Mintz, Director
BILLIE MINTZ is an award winning filmmaker who has produced and directed feature length documentaries and narrative short films. He is currently a correspondent on the recently rebooted National Geographic show "Explorer". Billie has dedicated his career to social justice, raising public consciousness, and advocating for those who have no voice. His belief in the power of story to inspire policy change is a driving force in his life as a filmmaker. His first feature, Surviving The Treatment (60 min, 2008) has been a successful tool in helping young cancer survivors, and their families, return to the life after the treatment. His second documentary, The Ponzi Scheme (70 min, 2010) is an investigation into victims of personal financial fraud. His latest feature documentary, Jesus Town USA (80min, 2014,) executive produced by SKY ATLANTIC, had its world premiere at AMDOCS (The American Documentary Film Festival in Palm Springs) and international premiere at Hot Docs. It aired on Showtime, CBC, and Netflix.
J.B. Sugar, Producer
J.B. SUGAR works as a producer, writer, and director through his production company, No Equal Entertainment. J.B. and No Equal have most recently produced 33 episodes of the one-hour drama series "Bitten" for SPACE (Bell Media), SYFY (NBCUniversal) and NETFLIX, based on the NY Times best-selling novels by Kelley Armstrong. Prior to Bitten, J.B. produced 40 episodes and directed 8 episodes of the multi-award winning series "The Collector" which continues to air around the world and was an Executive Producer and Showrunner for CBC's "JPod", based on the best-selling novel by Douglas Coupland. In addition to scripted series, he has also produced documentaries including: "Fireworkers", a documentary for Red Bull Media House and the CFC Worldwide Short Film Festival winning "Wood If" for Bravo!.